29/06/2022 by Stillorgan Electrical Services 0 Comments
Possible Electrical Issues in Summertime
What comes to mind when you think about the summer months? Long, snooze-filled days? A refreshing swim in the pool? Summer is full of these things, as well as a long list of potential electrical problems. The load on your home's electrical system increases as the weather warms.
You're not alone if your circuit breaker tripped (again) or you're concerned about flickering lights. During the summer, we receive a lot of calls from customers with various electrical issues. We've compiled a list of the top seven electrical issues we encounter during the summer. If you suspect a problem with your home's electrical system, contact one of our Stillorgan Electrical Professional Electricians right away.
Know the Electrical Issues you can face this Summer
1) Tripping The Circuit Breaker

Is it common for the circuit breaker to trip? If that's the case, your air conditioner could be to blame. While tripping the circuit breaker may appear annoying, it serves a crucial purpose in preventing an electrical fire. When the circuit can no longer safely manage the amount of electricity, it turns off the power to your entire house. Our electrical contractors frequently notice more tripped circuit breakers during the summer, when air conditioners are used the most. It's time to call one of our household electricians if your circuit breaker has tripped. We can assist you in determining why the circuit breaker tripped, allowing you to avoid the dangers of another power loss.
2) Using Too Many Extension Cords
You may not have enough electrical outlets for all of your gadgets if you reside in an older home. To make up for it, you may use extension cords to run fans around your house. Extension cords are intended to provide a short-term solution. If you find yourself needing extension cords on a daily basis, contact our certified electricians right away. Our household electricians can add more tamper-resistant outlets to your home so you can have power wherever you want it. A tamper-resistant outlet, as the name implies, prevents youngsters from inserting sharp objects into the outlet and being shocked. To use a tamper-resistant outlet, all holes must be under equal pressure.
3) Flickering Lights
When the air conditioner turns on, do your lights flicker? If this is the case, you should contact one of our licensed electricians as soon as possible. We'll be able to examine your air conditioner to discover how it interacts with the electrical system in your home. If left unattended, your air conditioner may trip the circuit breaker, resulting in higher energy bills.
4) Overloaded System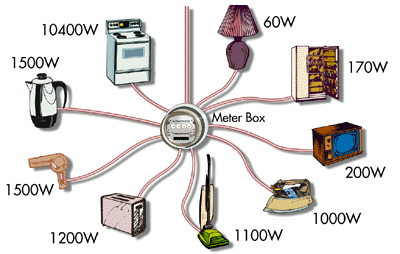 During the summer, your air conditioner is on most of the time, your refrigerator runs more frequently, and your children are at home watching TV and using other electronics. This increased electricity usage can potentially overburden your home's electrical system. Would you be able to spot the signs? Overloading can be detected by flickering lights, hot receptacles, buzzing sounds, and tripped circuit breakers. You may need to reduce the amount of electricity you consume at once to avoid overloading your system. If you live in an older home that is not suitable for modern electrical use, it may be time to hire an electrician to upgrade the electrical system.

There are a number of simple techniques to lower your summertime power consumption, most of which include taking advantage of the warm weather. Rather than using the dryer, hang your clothes to dry outside. Instead than remaining indoors and blasting the air conditioner, find a shady area near some water. Instead of turning on the lights in your home, open the curtains and allow the sun's natural light in. Rather than using electricity, invest in solar-powered outdoor lighting. Use your imagination to come up with new ways to save energy.
Another approach to optimize your electrical intake is to contact a local electrician and have them come in and make some improvements, especially if you live in an older home. If you observe a lot of surges or circuits that are continuously tripping, it's time to get an electrician to inspect your property. When it comes to electrical issues, prevention is the best option.
5) Power Surges

Using all of your high-wattage appliances at the same time – air conditioner, dishwasher, entertainment centre, etc. – can generate a power surge, tripping your breakers or causing a temporary power outage. Surges can also be caused by lightning storms. The best approach to avoid surges is to avoid using large appliances at the same time and unplugging them during a storm.
6) Blackouts and Brownouts

The hotter the weather, the greater the demand for electricity from your power company. An overabundance of demand, on the other hand, can result in a brownout. If your electricity goes off in the summer, you may be experiencing a brownout. Flickering lights or groaning appliances are signs that you're about to have a brownout. During a brownout, there's little you can do but wait for the temperature to drop outdoors, lowering the demand for electricity. Your power company may advise you to wait until late evening or night to use electricity so that there is less demand. Brownouts are produced by multiple customers demanding high levels of energy at the same time, rather than by a single customer. During the summer, people consume extra electricity for air conditioning, fans, and other cooling devices. Flickering lights and tripped circuit breakers are frequent throughout the summer months, and our professional electricians can help you figure out what's causing them.
7) Outdoor Receptacle Issues
Water activities in the pool or spa, as well as torrential storms, are synonymous with summer. Electrical surges and shocks could occur if water or dirt gets into your outdoor outlets. Maintain the cleanliness and dryness of your home's external electrical receptacles.

If you experience any electrical issues throughout the summer months call our Professional Electricians here at Stillorgan Electrical at (083) 015 8233 and our engineers will be out within the same day to resolve any of your issues.
Feed