23/05/2022 by Stillorgan Electrical Services 0 Comments
Top 10 Tips for Electrical Safety in your home
Most electrical fires can be prevented by following simple steps to ensure your home is safe. The list below is the top 10 things you should be aware of to ensure you home is safe! If you have any questions Stillorgan Electrical Services is always here to help just one call away.
1.     Always follow instructions for appliances
Every electrical appliance for your home will come with an instruction manual. These should always be ready carefully so you can understand the safety of the appliance which will improve the performance of the appliance and ensure your safety. If any appliance ever gives you even the slightest electrical shock you should immediately stop using it and contact a professional.
2.     Watch out for outlets that are overloaded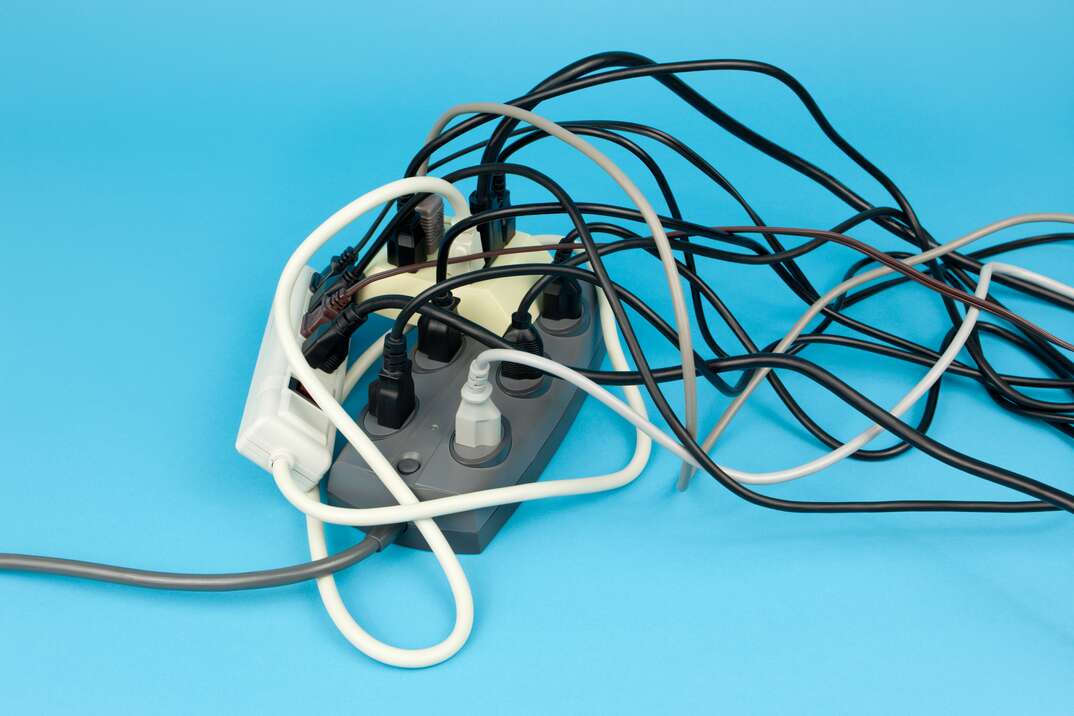 Putting too much power to an outlet aka overloading an electrical outlet is a common cause of electrical issues. Check all your outlets to ensure they are cool to the touch, have faceplates and are working as intended.
3.     Replace or repair damaged cords
Damaged electrical cords are a serious domestic electrical safety risk and can cause fires and electrocution. All power and extension lead cords should be checked regularly to ensure they are not fraying or cracking anywhere, if they are, they should be repaired or replaced immediately. Electrical cords should not be stapled or nailed into place or run under carpets or furniture. Electrical cords under rugs pose a tripping hazard and can overheat, while furniture can crush the insulation in electrical cords and damage the wires.
4.     Keep your used and unused electrical cords secure to prevent damage
These tips don't just apply to electrical cords when they're being used – cords also need to be stored safely to prevent damage. Keep electrical cords stored away from children and pets especially (as they may chew on the cable and damage it). Avoid wrapping electrical cords tightly around objects; this can cause them to stretch or cause overheating. Never rest an electrical cord on a hot surface to prevent damage to the cord.
5.     Unplug all unused appliances
One of the easiest safety tips is also one of the easiest to forget about: when an electrical appliance is not in use, plug it out. Not only does this save on your electricity bill by reducing any phantom drain, but unplugging unused appliances also protects them from getting too hot or having power surges.
6.     Keep all electrical devices and outlets away from water
Everyone knows (hopefully) that water and electricity don't mix well. All electrical equipment should be kept dry and away from water to prevent damage to your electrical appliances and can protect against injury and electrocution. When you're working with electrical appliances, it's important to always have dry hands. Keep electrical equipment away from plants, aquariums, sinks, showers and bath tubs to lower the risk of water and electricity coming into contact with each other.
7.     Give your electrical appliances proper space for air circulation
Without correct air circulation, electrical appliances can overheat and short and can become an electrical fire hazard. Make sure all your electrical appliances have proper air circulation and avoid running electrical appliances inside cabinets. For best safety, it's important to store flammable objects far away from all electrical appliances.
8.     Ensure your exhaust/extractor fans are clean
Some appliances have exhaust fans and most bathrooms will have an extractor fan which can get dirty and clogged with dust and debris over time. This can shorten the life of exhaust and extractor fans or even cause a build-up of dangerous gasses that can lead to electrical fires. Cleaning fans regularly helps to prevent such hazards from happening.
9.     Check that your appliances/fixtures are using the correct wattage
Using the correct bulbs for light fittings can prevent electrical issues, so make sure all your lamps, light fixtures and appliances are using the correct wattage. If a light fixture doesn't have a wattage listed, use a 60-watt bulb or less. For unmarked ceiling light fixtures, use 25-watt bulbs
10. Be aware of heaters and water heaters to prevent accidents
Combustible items should be kept away from portable heaters/storage heaters and built-in fires. For fire safety, store combustibles away from any heating appliance. Portable/storage heaters should not be used close to curtains and should only ever be put on a stable surface.
For any electrical repair or electrical emergency, call Stillorgan Electrical Services and we will be there with you today.
Feed