03/08/2022 by Stillorgan Electrical Services 0 Comments
Upgrading Your Garden Space for Summer
It's unlikely that we would want to spend any more time outside than is required, including in our gardens, given the frigid temperatures and awful weather we endure for half the year in this country. During the winter, what was once a tranquil retreat, a place for water fights, BBQs, and entertaining family and friends, turns into a desolate, abandoned wasteland.
Sometimes, all we can achieve before we run inside and turn on the heating is tossing a cover over the patio furniture and putting the BBQ in the shed after having a lengthy discussion about whether or not to just throw it out and get a new one next year.
Our gardens undoubtedly won't be in the best condition by the time summer returns; why not give the space some fresh energy? Similar to remodeling your home, why not try something new in your garden instead of merely freshening up the old features?
Get Lit!
Strategic lighting placement is among the easiest and most cost-efficient methods to change an outdoor area. Festoon or fairy lights can be hung just about anywhere, including in bushes, trees, shrubs, and trellises as well as along the edges of fences and around trellises. Other fantastic options for lighting up the yard are battery-operated lanterns and LED lights, and you can get a wide variety of these in most garden centres, online, and in certain low-cost high street stores.
When possible, choose solar-powered lights to help the environment and save money on electricity!
Why not call Stillorgan Electrical Services today for a free no obligation quote to upgrade your garden's lighting? Call us on 083 015 8233 to speak to one of our friendly staff members and get booked in today!
A Lick of Paint
It may seem obvious and uninteresting, but painting your fences will surprisingly instantly give your yard a new, fresh appeal. For a more natural appearance, you can use a wood stain; alternatively, you might like a solid colour like white or grey.
While you're doing it, you might as well check around to see what else could use a fresh coat of paint. For instance, worn-out wooden planters or patio furniture can be made to seem brand new, and by matching them to your fences, your garden will have a more cohesive appearance.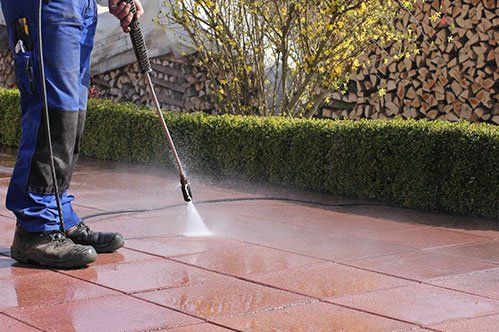 This summer, entertain your loved ones in elegance. With our expert power cleaning service, you can give your yard a facelift. The quickest and most efficient way to remove years worth of filth and grime from all of your gardens' hard surfaces is to use our professional power cleaning service.
Our powerful industrial power washers can easily remove mouldy corners, mildewed decks, damaged walls, and flaking paint. We only utilise with the best tools to provide you the greatest thorough clean possible. It is crucial to remember that all of our pressure washers have such strong cleaning capabilities that only a member of the garden and landscaping staff who is fully qualified may use them.
Create An Outdoor Seating Area
You likely already have a table and a few chairs on your patio or deck. Instead, consider designing a space that is ideal for outdoor leisure and entertainment. Build-in sofa-style seating with weather-resistant cushions to create a comfortable seating area in a garden nook.
Why not include an awning, lighting, and even storage within the seating so that there is a place to store extra pillows and blankets for chilly evenings in your design?
Make A Pathway
A path is a terrific method to divide a huge garden into manageable portions, which can make gardening easier. For instance, a walk from the decking up to the summer home or jacuzzi, or a path from your vegetable garden to a seating area.
You have just as many possibilities when designing a path as you do a patio. Whatever you decide complements your garden the best—coloured stepping stones, wooden discs made from tree trunks, or simple slabs—laying a path may be easier than you think and wouldn't pose a significant challenge.
A Water Feature
There is a water feature out there to suit any size, style, and price. It's a popular way to alter a garden. We looked at the enormous range of water features available in a recent piece, but I'll simply reiterate it here.
A water wall or sculptural fountain complements a modern-style garden beautifully, whilst an outdoor area with a somewhat more antique aesthetic might benefit from a water pump-style fountain or an ornamental pond. A water feature can also draw additional wildlife to your garden, including frogs, insects, and birds.
If you're interested in taking your home's garden to the next level, Stillorgan Electrical Services are here to help! Between us and our sister companies, we have all bases covered be it painting around your garden, installing new garden lights or even power washing your patio!
Call today on 083 015 8233 to speak to one of our friendly staff for a free no obligation quote!
Feed